Value of an Integrated Timekeeping System for All Vendors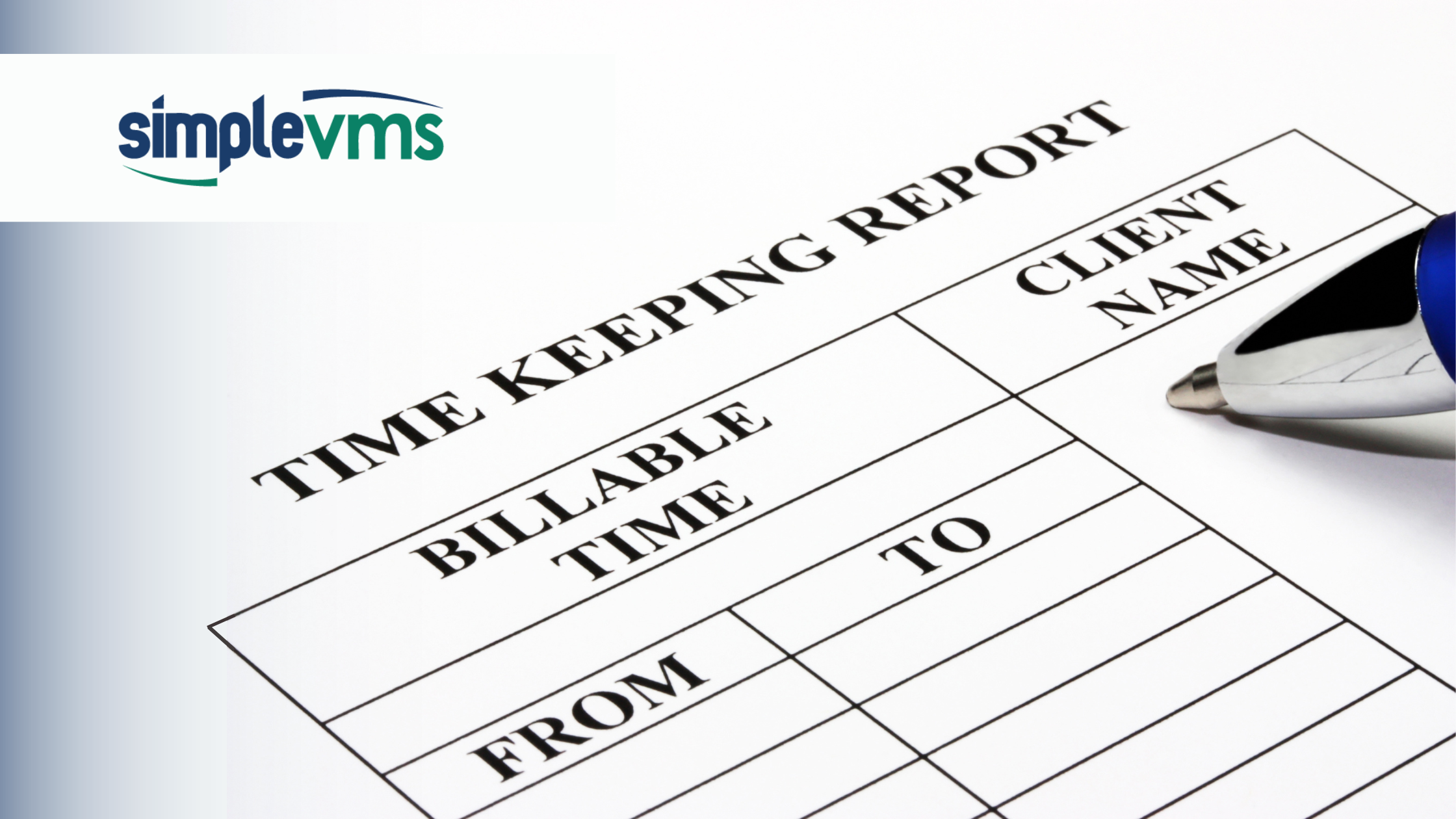 When using multiple vendors to handle your staffing needs, it's common for each supplier (and their temporary workers) to rely on their own timekeeping system. Often, this approach is cumbersome, requiring supervisors to review multiple systems to confirm worker hours, deal with paper time slips on a daily or weekly basis, or otherwise spend a significant amount of time on payroll activities.
With an integrated timekeeping system, payroll workloads for supervisors decline significantly. Plus, it increases overall visibility, ensuring companies can keep their eyes on the big picture and dive into the details quickly when needed.
Ultimately, an integrated timekeeping system for all vendors is the optimal approach, supporting efficiency, productivity, and accuracy. Here's a closer look at the benefits of an integrated timekeeping system SimpleVMS provides.
The Value That Comes with an Integrated Timekeeping System
No-Cost Centralized Timekeeping for Greater Efficiency
The no-cost timekeeping solutions SimpleVMS provides allow client companies to centralize all of their timekeeping activities for their temporary workers, regardless of the number of vendors involved. All temp employees clock in and out using the same system, no matter what agency they placed them. This reduces confusion for workers, as everyone uses one approach.
When it's time to edit or approve hours, supervisors and managers only need to log into a single system. They can quickly review all activity under their purview from a centralized dashboard, approving worker hours or making adjustments with a few clicks.
Plus, since clocking in and out is digital, there are typically fewer discrepancies to correct. Temporary workers can't round their times up or down to their benefit, as the time clocks record the system time based on when they interact with the device.
With this approach, there's greater accuracy and significant time savings. As a result, companies experience fewer errors, and approving supervisors and managers can focus more of their energy on other responsibilities, often saving up to three hours a week compared to using the separated timekeeping processes.
Simplified Accounting
From an accounting perspective, the timekeeping solution from SimpleVMS simplifies a range of activities. First, it eliminates the need for paper time slips, which are often harder to track and store or could create the need for additional data entry. The time clock captures all required hours-related data, centralizing this information.
Additionally, by implementing a no-cost SimpleVMS timekeeping solution, accounting departments receive a single invoice for all activities. This makes managing payroll tracking, auditing, payment, reconciliation, and similar requirements easier.
Since rates are locked in the SimpleVMS timekeeping system, this approach can eliminate errant billing. Payroll is calculated based on the recorded clock-in and clock-out times, and companies are only billed for approved hours. This results in enhanced accuracy.
The SimpleVMS timekeeping system also has a range of reporting capabilities. Companies can track hours worked and examine payroll for specific departments or cost centers, improving visibility when multiple vendors are in place.
No-Cost Timekeeping Made Simple.
Overall, this not only saves a significant amount of time for your accounting team, but it also results in cost savings. Are you ready to learn how an integrated timekeeping system can benefit your organization at no additional cost? Contact SimpleVMS today to see how our services can save you time and money.